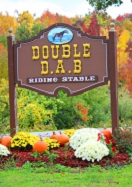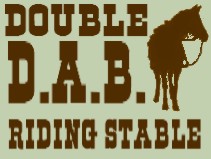 5811 Welch Hill Rd. Ripley, NY 14775 716-736-4418 Contact Us
Visits since: Nov 1, 2009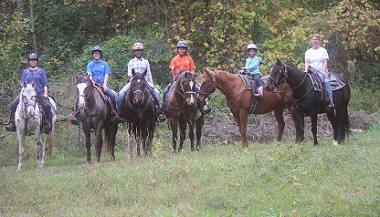 Come and enjoy a beautiful horseback ride through miles of scenic trails. Our trails will take you through fields and woods full of freshwater creeks and wild flowers. Deer, wild turkey, and hawks are often seen.
Picture yourself high in the saddle leisurely riding across Ripley Ridge. The fresh air sweeps by carrying the faint scent of the sweet earth and rich forest that surrounds you. The sun peaks through the trees and reawakens your passion for nature. Lake Erie lies in the distance. On a clear day you may see Long Point, Ontario, on the opposite shore. At this point, you realize life couldn't get any better!
Our rides are geared toward people who are looking to spend some leisurely, pleasant time on a horse. No experience is needed as our knowledgeable guides and well-trained horses will take care of you.
Fun For the Entire Family
A release form must be completed for every rider each time he or she rides.

All rides are guided. We recommend wearing jeans and sturdy shoes, preferably with a heel.

For your safety, and that of our horses, we cannot allow pregnant women, children under 6 years old, and anyone that has been consuming alcohol to go on a trail ride. Helmets are available at the stable. Anyone under 18 years old will be required to wear a helmet. Adults 18 and older may choose whether or not to wear a helmet.

Reservations are strongly suggested. Please call (716)736-4418 to make one. We will try to accommodate walk-ins. During our busy season, it is sometimes difficult to do. It is best if you make a reservation.

When making reservations please let us know if any rider is over 240 pounds. We will prepare a larger, heavier horse for you.

We are open year round with the exception of Deer Hunting Shotgun/Rifle Season (New York State Schedule).
Our Rates
One Hour Trail Ride (9am to 4:30pm): $30.00
Sunset Rides (after 4:30pm), 1 hour: $40.00
Pony Rides, 5-minutes, hand lead: $10.00
Petting farm tour included with all rides.
Please tip your guides.
Visit our News & Specials Page for our current specials.
Please note: We accept cash or checks with appropriate identification. We do not accept credit cards or debit cards at the stable. Prices are subject to change.

Serenity is waiting for you. Make your reservations now by calling (716) 736-4418.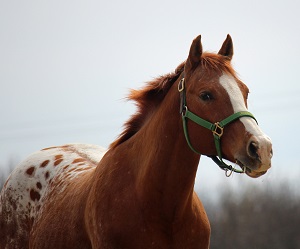 Rides Available All Seasons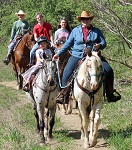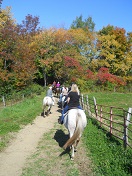 Fantastic Scenic Outdoor Views