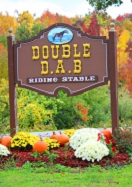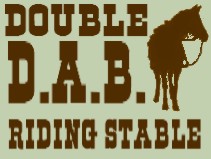 5811 Welch Hill Rd. Ripley, NY 14775 716-736-4418 Contact Us
Visits since: Nov 1, 2009

Double DAB has held various events. We have hosted birthday parties, graduation parties, and even a renewal of wedding vows. Groups often take advantage of our picnic area and fire pit to have a party after they have gone riding.
If you have an event idea of your own please give us a call. We will do our best to accommodate your needs.
Pony Ride Parties
Are you looking for a unique way to celebrate your child's next birthday? Come celebrate with us by throwing your child a Pony Ride Party! Your child and his/her friends will love riding ponies and playing with the animals.
You can bring your own food or order from a local restaurant or pizza shop. We have an outdoor picnic area that can be moved indoors if the weather turns. Pony rides can also be done indoors, year round.
Cost is $10 per child. Pony rides are hand lead by Double DAB staff members.
Chores At The Crack Of Dawn
Have you ever thought about being a farmer, cowboy, cowgirl, or ranch hand? Would you like the opportunity to get up close to the animals and help with their care? Join us for Chores at the Crack of Dawn and get hands-on experience while your family creates memories that will last a lifetime.
Chores at the Crack of Dawn takes place during our morning chores between 7 and 8 am. $20+ per group donation suggested.
Please make a reservation.
Family Farm Night
Bring the entire family out for one of our evening events. Come for an evening ride followed by a cookout. Enjoy hot dogs and toast marshmallows on our campfire. Watch the sunset and enjoy the evening as the horses romp in the pastures.
Call us for rates & reservations.
Call Today!








Come On Let's Party.